Why Iona School of Motoring?
Why Iona School of Motoring?
With Iona School of Motoring, you can be confident of getting first class driving lessons from someone who really knows their stuff!
You'll learn how to drive in modern, well equipped cars just like our Citroen C3: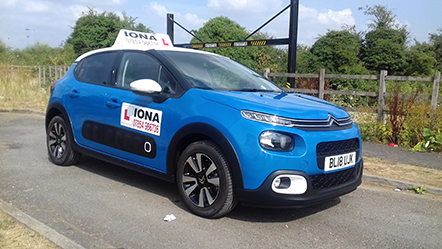 You can also use our cars for your driving test when the time comes. As with our other cars, the Citroen C3 is modern, stylish, and comfortable.
You'll get personal service, too. No waiting in call centre queues when you want to get in touch, or having to switch to other instructors partway through your lessons; You're guaranteed the same driver from start to finish. And all at great prices. What could be better?
Get in touch
If you're based in Wooton, Wooton Fields, Hardingstone, Collingtree, Grange Park or the surrounding areas in Northampton, contact Iona School of Motoring and let's get driving today!
Email:

This email address is being protected from spambots. You need JavaScript enabled to view it.

Phone: 07854 986736
Facebook: www.facebook.com/IonaDrivingSchoolNorthampton